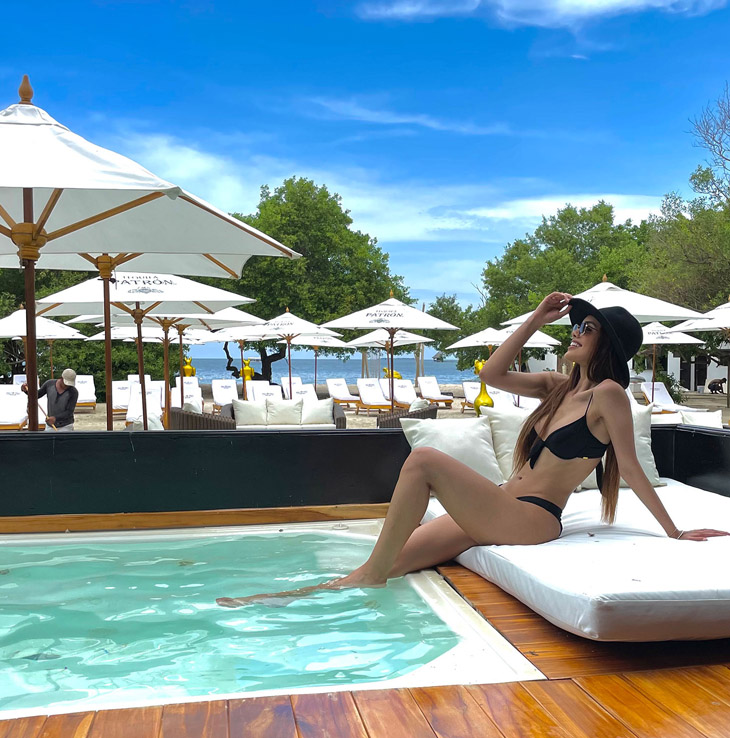 What is Pao Pao
PAO PAO Beach Club, the new product of the BORA BORA GROUP focused on an adult target who is looking for a private place to enjoy a day at the beach in an exclusive and slightly calmer environment than the one we offer in Bora Bora.
We have 2 spectacular beaches, a freshwater pool, social areas, impeccable bathrooms and an exquisite gastronomy in a surreal atmosphere with charming details.
Balearic rhythms, Chill out, Deep house, Bossa Nova accompanied by a community of exotic birds that fly over the sky of our imposing Beach Club.
We go out every day of the week. Passengers must be at 7:20 am at gate # 4 of the La Bodeguita pier. We set sail at approximately 8:00 am. The journey takes 45 minutes. At 3 pm we leave the island back and we are at the dock again at 4 pm approx.
Is it safe to buy through the website with PayU?
To protect your data PAO PAO delegates to PayU the capture of sensitive information. Our payment platform complies with the highest standards required by the international standard PCI DSS for security in credit card transactions. It also has an SSL security certificate issued by GeoTrust, a Verisign company, which guarantees secure communications by encrypting all data to and from the site; this way you can feel safe when entering your card information.
PayU has an Anti-Fraud Module available that helps determine if there is a fraudulent transaction in process. For this, validations of the different data that are entered during the purchase are carried out, it is verified that the data entered both on the web page and in the PayU responsive Checkout agree.
What happens if I can't show up on the day of booking?
Please read our cancellation policy before booking.
For what ages is this Full Day recommended?
Our beach club is designed for adults only so they can enjoy our facilities in a private way; It is recommended for people over 18 years of age.
Why do you have to return at 3:00 pm?
Due to regulations of the port authorities and for security reasons, all passenger tourist vessels must be back at the pier at around 4:00 pm.
What do you recommend to bring to the club and what should I NOT bring?
In order to enjoy this wonderful experience, it is only recommended to bring a good sunscreen and your towel. And if you want to make extra consumptions or use any additional service during your visit, you can cancel in cash or VISA or MASTERCARD credit card.
The entry of alcoholic beverages or food is not allowed.
What do I do when I arrive at Muelle la Bodeguita at 8:00 am?
Go to door # 4 and once you enter, you must pay the value of the port tax in cash and then go to our stand PAO PAO for the check before setting sail.
How do I get to the La Bodeguita port of embarkation?
It is extremely simple, the Bodeguita dock is well known in the city of Cartagena, very close to the Clock Tower and in the Plaza de Los Pegasos.
Address: Av. Blas De Lezo, Cartagena, Bolívar .
How long is the journey from Cartagena to Bora Bora?
Navigation time is approximately 45-50 minutes each way.
Can I bring my pet?
Unfortunately, pets are not allowed into the club.
Apart from the food and drinks included in the Day Pass, is there a menu available?
Yes, we have a wide variety of food and drinks for you to enjoy our Colombian cuisine and the best cocktails in the bay.
What time are we back at Puerto La Bodeguita?
Our full day ends at the same port of embarkation "La Bodeguita" at approximately 4pm, since due to dock regulations and the safety of our visitors we must return at this time.
Do you offer lodging?
We do not offer hosting at this time